I started playing violin at the age of 7. When I was 10, I got one year of singing lessons as well. At the age of 14 I started playing the viola, and the change of the teacher one year later was the beginning of a surprising career.

One year later I got in focus of the district teacher, which lead to more intense lessons and participation in regional in national competitions. The sustainment of my music school, heped preparing me for the entrance exam of the University of music in Weimar.

But before entering the university I had to finnish civil service and did a professional training as businessman, because the communist party considered me not being mature enough being worth getting access to the highschool.

Besides my professional training as a businessman in a hotel in Dresden, I practised the viola more than ever. In 1989 I played auditions for Dresdens and Weimars University of music, choosing Weimar the place to be for the next years.
After having finished the professional training and civil service I moved to Weimar in 1991.
The musical studies, combined with playing in international orchestras such as Gustav Mahler youth orchestra (picture) and orchestras in our surrounding (Dresden Philharmonic, Staatskapelle Weimar...), participating in Masterclasses and concerts, playing modern orchestral and chamber music and early music as well were a great and unforgettable time.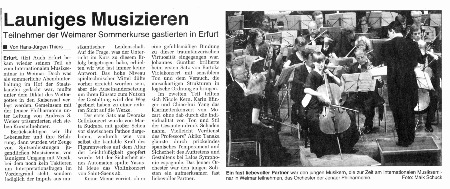 Baroque music, in this picture: Orchestra, choir and soloists of the University, rehearsing Purcell's "Dido&Aeneas", was the possibility to keep in touch with music during my medical studies 2002-2009.

After having finished the medical school I played more concerts than ever before, that was great fun.

Now living in Finland music is still an important part of my life. The 'Magic Flute' in finnish language will be unforgettable, but I'm also glad having opportunities playing chamber music.

One of my last gigs in 2009: The 600. anniversary of the university of Leipzig. This foto was found in a newspaper, seems, that only the German President and a certain viola-player
are awake ;-) --- and only 6 months later the president refused...

I'm very happy about the musical opportunities here around Oulu and Kemi. Since 03/2010 I have been playing concerts with Oulu Chamber orchestra, it's string quartet and Kemi City orchestra (Photo).